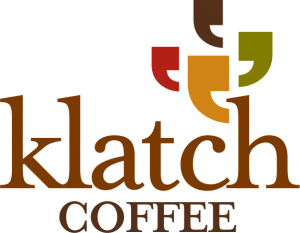 Klatch Coffee
Crews partnered with Klatch Coffee to open the celebrated brand in Terminal 7 (United) at LAX in December 2012. Klatch Coffee is renowned as a comfortable haven that delivers signature coffee drinks prepared by a staff that has won many awards for their roasting and barista skills. Mike Perry, a bio-chemical engineering grad from the University of California at Riverside, applied what he learned in engineering and started Klatch Coffee in 1993 with a single retail store in Rancho Cucamonga, California. The company now spreads its award-winning coffee among two
(2) retail locations, a roastery and training center in San Dimas, California.
Klatch's world renowned espresso, which won "Best Espresso in the World" at the 2007 Barista Championships is the key ingredient in the delicious lattes and ice/blending drinks. Not 
only does Klatch serve award-winning drinks (awarded "Best Espresso in the World" at the 2007 World Barista Championship & awarded Micro Roaster of the Year in 2009 by Roast Magazine) but allows passengers to complement their premium coffee with fresh fruit, amazing signature sandwiches and panini's, freshly baked muffins, scones and cookies. A wonderful selection of muffins, scones and savory breakfast sandwiches brighten every traveler's morning commute. Providing healthy offerings to travelers is one of Crews' biggest initiatives in their development of a food & beverage concession.
Klatch Coffee is certified under the USDA National Organic Program as
 an "Organic Coffee Roaster" featuring many organic and shade grown coffees, which appeals to today's health conscious consumers. Crews additionally seeks to partner with company's to promote small local businesses and farmers by having "farm-to-table" concepts. Klatch Coffee's certification by Trans Fair USA to roast and sell "Fair Trade" coffee highlights that Klatch offers a wide selection of fair-trade coffee, helping to identify and support the artisan farmers who practice their craft with dedication, passion and skill to produce exceptional coffee.