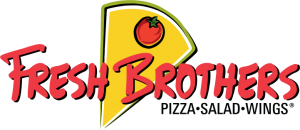 Fresh Brothers Pizza
Inspired by Southern California's health conscious lifestyle, Fresh Brothers is an award winning, fresh casual pizza chain, founded on the concept of Fresh Thinking, Fresh Pizza™. Fresh Brothers is a local, award winning, family owned Chicago-style pizza brand. It has now become one of Los Angeles's fastest growing pizza concepts.
Crews teamed up with founders and creators, the Goldberg brothers, to bring Fresh Brother's Pizza to the Terminal 2 Dining Terrace in 2015. Fresh Brothers Pizza enhances the Terminal 2 LAX concession program by appealing to all passengers with its fresh, high quality ingredients in its pizzas, salads, baked wings and breakfast items.